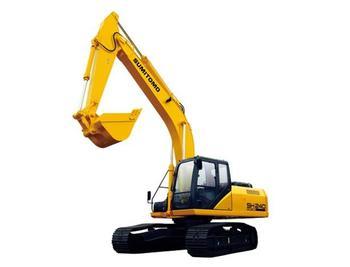 "Since the second quarter of 2011, the construction machinery industry experienced a continuous 25-month adjustment. Companies use their adjustment opportunities to work hard." A few days ago, Jun Jun, Chairman of the China Construction Machinery Industry Association, met at the 2013 Construction Machinery Industry Conference Media Conference. He said: "In the next phase, internationalization will become the focus of independent innovation."
Challenges have never been seen In recent years, the global economy has moved forward and China's economy has been deeply adjusted. As a barometer of the macro economy, the Chinese construction machinery industry has also bid farewell to the rapid growth that has lasted for 10 years and has entered a steady development phase.
In the past 2012, global construction machinery industry sales exceeded US$200 billion, reaching an all-time high of US$220 billion; however, compared with the previous year, the increase was extremely limited.
As the largest market for the global construction machinery industry, the Chinese construction machinery industry has experienced frequent fluctuations since the financial crisis. Since 2011, the overall sales of Chinese companies have apparently contracted. However, among them, the performance of leading companies is still robust and their advantages are even more pronounced.
Su Zimeng, secretary general of the China Construction Machinery Industry Association, told reporters that in 2012, the world's 50 leading manufacturers of construction machinery, their sales increased slightly compared to the previous year, but the growth rate declined significantly. The profit of 50 companies was 21.075 billion U.S. dollars, and the operating profit margin was 10.55%, both falling from the previous year.
In the first quarter of 2013, the global construction machinery industry's declining trend has not changed, market demand has shrunk, industry competition has become more fierce, and the division between companies has further intensified. The gap between the global leading companies and other companies in terms of scale and profitability has clearly widened.
With the global economic downturn, the Chinese economy is in an adjustment phase. The 2013 Central Economic Work Conference pointed out that the current Chinese economy is undergoing two changes, that is, from rapid growth to steady growth, and from scale-expanding development to quality-effective development. China's development still faces many risks and challenges, and the problems of imbalance, incoordination, and unsustainability remain prominent. At the same time, however, the Chinese economy has also embarked on a new starting point for development. In a comprehensive judgment, China's development still possesses rare opportunities and favorable conditions. The fundamentals of economic development are long-term, the domestic market has great potential, and the social productivity is well-grounded and technologically innovative. With enhanced capabilities, abundant human resources, and comprehensive strength of production factors, we have actively and steadily promoted urbanization and strived to promote the quality of urbanization.
Specific to the construction machinery industry, influenced by international and domestic macro factors, the construction machinery industry in China has bid farewell to the rapid development in the past years. The competition among enterprises has become more intense and the industry has faced many difficulties in its development.
In 2012, the sales volume of China's construction machinery industry was 562.6 billion yuan, an increase of only 2.96% from the previous year. Although the current industry production and sales decline, but the decline has stabilized. Su Zimeng believes that this state of affairs will continue for some time. However, overall, for the Chinese construction machinery industry, the deceleration of the industry is actually a sign of a rational return. Fortunately, Chinese enterprises, during this period, will be able to actively adjust the structure, transfer methods, strive to improve product quality and brand value, lay a solid foundation for development, and tackle high-end markets. In particular, breakthroughs have been made in accelerating technological innovation and strengthening key links such as product innovation, brand innovation, industrial organization innovation, and business model innovation.
After nearly 10 years of development, the core competitiveness of China's construction machinery industry has achieved substantial improvement. Especially in terms of international competitiveness, it has achieved continuous improvement. China's construction machinery companies have continuously increased in the number and scale of product exports. At the same time, of the world's top 50 manufacturers of construction machinery, 11 companies have entered China. At the same time, 3 Chinese construction machinery leaders have firmly ranked in the top ten; In terms of scale and efficiency, China's leading companies are already in the forefront of the world. In particular, it is worth mentioning that in terms of overseas expansion, Chinese enterprises have made breakthroughs in recent years. Through international acquisitions and integration, Chinese companies have achieved product, R&D, technology and enterprise operations, and overseas channel construction. Leapfrogging development. The influence of Chinese brands in the world is further deepening.
Accelerating the internationalization of the leader In the aforementioned meeting, Guo Xuehong, vice president of Zoomlion revealed that Zoomlion's current stage can be said to be experiencing a third venture, that is, becoming a truly international enterprise.
Speaking of the goals of Sino-Ilan Internationalization, Guo Xuehong used the words discussed at the board of directors to describe: "To some extent, whether the evaluation is truly international or whether people with different skin colors and languages ​​have studied together development of". This means that the internationalization of Zoomlion is not only the market but the comprehensive internationalization of brands, capital, talent, technology and management.
Guo Xuehong said that the globalization of Zoomlion is still in its infancy, and this goal is expected to be reached by 2020. At present, it will continue to strengthen the global market layout and industrial layout. In the marketing system, Zoomlion plans to build an international business unit in each country; in terms of infrastructure, China Zoomlion has started construction in India, Brazil is under construction, and it intends to continue to invest and build factories in Russia, South Africa and other countries.
"Now the export of construction machinery industry will become increasingly difficult, and many trade barriers will be encountered. There will be less impediments to building factories in the local area," said Guo Xuehong.
In addition, he also stated that after the acquisition of Italy's CIFA, Zhonglian's overseas acquisitions were suspended for a few years, but looking for M&A opportunities is an international approach that China will not give up. "Despite the current industry downturn, the acquisition background is not very good. However, when Zhonglian took over CIFA, it coincided with the 2008 financial crisis. At that time, there were many questions. Now it seems to be extremely successful, so as long as there are suitable targets and conditions. Will consider it."
Sun Jianzhong, vice president of Xugong, said that in 1993 Xugong Group took the first step toward becoming an international market by participating in overseas exhibitions. Twenty years later, Xugong products have been successfully exported to 159 countries and regions. The camp exported 1.36 billion yuan, ranking first in the domestic construction machinery industry. According to the XCMG plan, by the end of the "Twelfth Five-Year Plan", Xugong Group will strive to export 26 billion yuan, and the internationalization index will reach more than 25%.
At present, XCMG has established a relatively complete overseas marketing and service
Spare Parts
system, with 10 overseas spare parts centers such as Brazil and Angola, first-tier dealers, 268 service center outlets, and more than 500 contracted service providers. In the future, XCMG will also complete Another 10 spare parts centers, such as the Philippines, Mexico, and Australia, improve service speed and effectiveness.
XCMG's overseas system construction focuses on two aspects: First, channel construction, through the promotion of channel management and control capabilities, full-scale training of distributors, implementation of refined management, and other means to establish professional sales channels; second, to further consolidate service foundations and spare parts, improve the overall Brand influence. In addition, XCMG has established training centers in countries such as Venezuela and India to train service engineers and operators in the region.
In addition, Xugong has also actively involved construction companies in the United Nations to develop international markets through overseas engineering contracts. Through this model, he has successfully won many large orders. For example, Angola's oil pipeline construction purchases 422 Xuchang products at one time, and Ethiopia's one-off purchases. 345 XCMG products, the most exciting of which was Venezuela's 750 million yuan in 2011, XCMG sold 6,205 products in one fell swoop, setting a record for the construction machinery industry single order history.
While product sales are internationalized, XCMG's equipment base has also opened up the road to internationalization. Xugong's Brazilian equipment base with an area of ​​800,000 square meters is under construction and is expected to be put into production operations in July this year. In the future, XCMG will also establish manufacturing bases in the United States, India, and South Africa. In the internationalization of the R&D system, XCMG is also advancing rapidly. Currently, R&D centers have been set up in Europe to set up project teams. In the future, R&D centers will be set up in countries such as India, Brazil, South Africa, India, and Japan to collect market demand. Develop localized products to better serve local construction.
When it comes to internationalization, overseas mergers and acquisitions have to be mentioned. In recent years, Chinese construction machinery companies have been playing a role in the field of overseas mergers and acquisitions. XCMG is among the best. On April 20, 2012, XCMG and Schweppes, the second largest
Concrete Pump
manufacturer in Germany, formally signed an acquisition agreement, which greatly strengthened and enhanced the capabilities in the field of concrete machinery manufacturing. In addition, XCMG also acquired a spare parts company in Germany and Poland respectively. .
For internationalization, Su Zimeng believes that the Chinese construction machinery industry already has the right to speak in the international arena. For example, the international cranes' standard committee is set up in China. On the issue of internationalization, the right to speak is very important. Although China's construction machinery companies will have a process on the road of integration, the final result should be very good.
Mobile Concrete Batching Plant
This product(concrete batching plant) is equipped with the storage, batching, conveying, stirring, control and other devices of various raw materials required for precast concrete, and various aggregates, powders, admixtures, water, etc. A complete set of equipment for supplying concrete in a concentrated manner than by a mixer.
Features of concrete batching plant
1.The overall steel structure of the mixing station is made of high-quality steel, which has high overall structural strength and strong stability.
2.The mixing machine adopts the twin-shaft forced mixing main machine, which has strong mixing performance, uniform mixing and high productivity.
3.Excellent pneumatic components, electrical components, etc.; to ensure the reliability of the equipment, accurate metering performance.
4.Each maintenance and repair site is provided with a walking platform or a check ladder, and has sufficient operation space. Easy maintenance and repair

Mobile Concrete Batching Plant,Yhzs25 Mobile Concrete Mixing Plant,Yhzs50 Mobile Concrete Mixing Plant,Yhzs75 Mobile Concrete Mixing Plant
Shandong Zeyu Heavy Industry Science and Technology Co.,Ltd. , https://www.sdstabilizedsoilmixingplant.com