On March 29, 2015, the "Annual Celebration Ceremony of the China Heavy Truck HOWO Commander and the Factory Direct Sales Meeting" was successfully held in Shenzhen Annan Automobile Sales Co., Ltd. The heavy truck sales department of China National Heavy Duty Truck (Hong Kong) Co., Ltd., Cummins Power, other suppliers and more than 200 HOWO light truck users participated in the event. 89 orders were reached on site.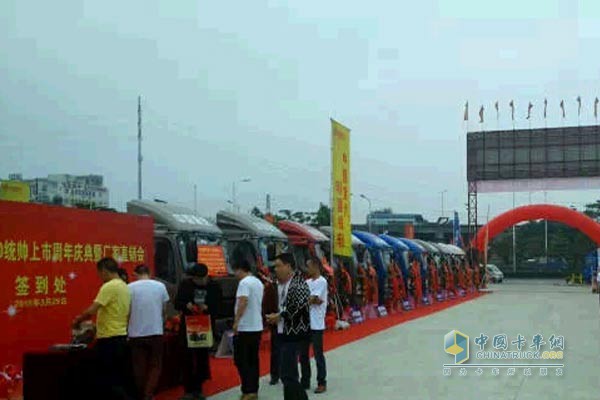 Cummins boosts sales of HOWO light trucks
The HOWO light truck is the most influential HOWO brand product of China National Heavy Duty Truck. Since its launch in 2012, it has opened the light truck market with features such as bold appearance and efficient power, especially the high-end commander equipped with the Cummins ISF series engine. In the wave of upgrade of the National IV, the models helped the heavy-duty trucks to overcome difficulties and quickly occupied the market. After the 5th anniversary of the cooperation between Sinotruk and German Mannmann technology has been digested and absorbed into heavy truck light truck products. High-end configurations such as MAN Technology axle and SKF maintenance-free bearing units have been fully applied in HOWO light trucks. These configurations, coupled with the high-quality driving experience brought by the Cummins ISF engine, are also a major reason for the rise in sales.
The Cummins ISF engine is recognized by the market for its high-quality dynamic performance, fuel economy and durability. Heavy truck HOWO light trucks are based on these advantages. The light truck platform with large load bearing, high reliability, and high security is the perfect match for both sides. Combine. For the whole year of 2014, HOWO commanded the first year of the light truck listing, and sold 1,500 vehicles equipped with Cummins ISF. In the first quarter of 2015 alone, HOWO commander vehicles equipped with Cummins ISF engines had already shipped 1,500 vehicles, which had surpassed last year's annual sales, showing that it has been recognized by more and more customers in the market. .
An owner of a logistics company in Shenzhen shared his experience with the HOWO light truck at the scene. The company's more than a dozen HOWO light trucks are superior to similar products in terms of attendance, maintenance costs, economic efficiency, and reliability. One HOWO light truck Within a year, he saved nearly ten thousand yuan, and the owner ordered six HOWO light trucks at the scene.
In addition, in the Guangdong market, Cummins also cooperates with CNHTC to provide comprehensive vehicle maintenance services and provide users with services such as vehicle selection programs, vehicle common sense, maintenance, all-weather rescue, and lifelong technical service support.
Cnc Machining Services,Cnc Parts,High Precision Cnc Machining Parts,Cnc Milling Parts
Shenzhen Bergek Technology Co.,LTD , https://www.szbergek.com